ResX Translation Tool 1.1

I've released the first version of the helper application ResX Translation Tool that simplifies project localization and minimizes manual work with ResX files.
At work we develop an application that is localized for now into 3 languages. The base one, English, is maintained by our team. And previously we had to create a list of resources for translation into 2 other languages, and send this list in the Excel file to our customer. The next step was to update the project's resources with the newly translated texts. Basically, a lot of manual work.
So, that is the reason why the tool was created.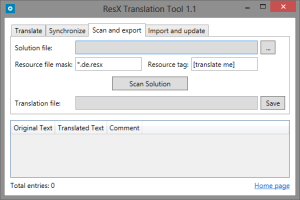 It can export all resources that should be translated, has a simple embedded editor for translators, can import the translated resources back into the project, and synchronize ResX files with different languages. As a result, from now the development team should maintain only the base English resources.
You can find the ResX Translation Tool executables on the GitHub, as well as the source code and the detailed documentation of when and how to use the tool.